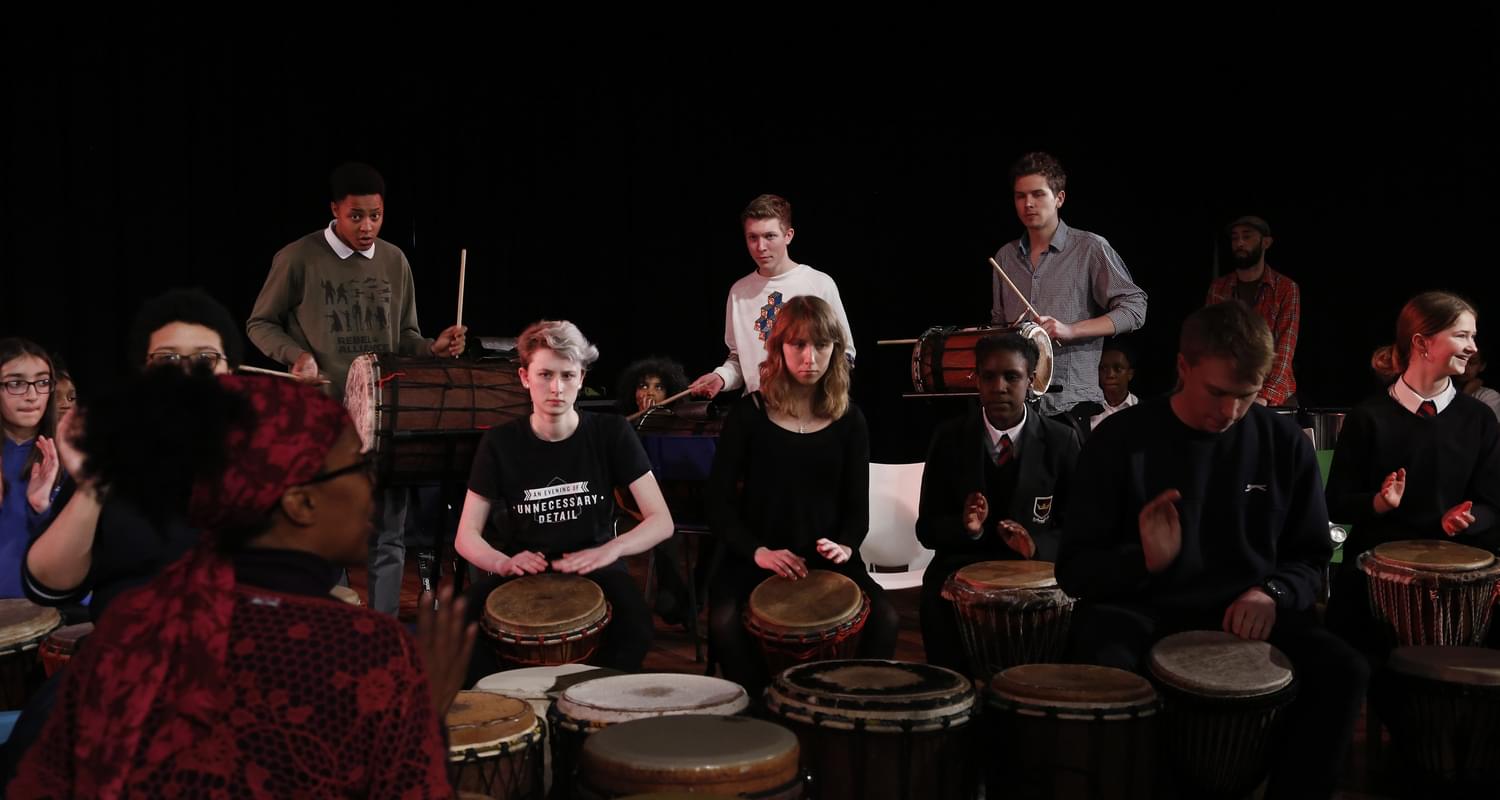 Southwark Music offers a wide range of Key Stage 3 (KS3) whole class programmes for your school and each programme is tailored to meet the needs of your students and music department.
Cost
Southwark Music will provide this programme to your school FREE of charge.
We will provide you with two tutors, for one day, for five weeks. They will teach four sessions during that day, which can be either three KS3 classes and one after school session, or four KS3/4 lessons.
Specialist Tutors, Instruments and Resources
Our carefully chosen tutors are experienced music professionals and will work with teachers to provide lasting project resources and set realistic, achievable outcomes for all. Southwark Music will provide instruments for the duration of the project.
Continued Professional Development
We are keen to provide you with a programme that includes a strong training element for your staff and we ask you to choose an area of learning that is not a specialism for them.

What We Offer
Below is a flavour of what we can offer but it's by no means prescriptive:
African Drumming
Traditional African rhythms and drumming technique are brought to life in this dynamic and fun programme accentuating the joy and positivity in music making.
Samba
Explore the wonderful world of Samba with this high energy, polyrhythmic programme that will keep your KS3 students on the beat throughout.
Singing in gospel / contemporary style
Southwark has a deserved reputation for quality singing and our tutors will bring out the best with a range of carefully chosen songs and arrangements leading to a finale performance.
Guitar (acoustic)
Our tutors will teach a range of contemporary pieces on acoustic guitar. Differentiated for all, this program will provide musical learning and engagement for the whole class.
Song writing
Whatever the genre, through sampling technology to traditional singer songwriter, our experienced tutors will guide your creatives to performance and recordings of their works.
Rock & Pop Band
SMS tutors were at the forefront with Musical Futures reshaping music education and we will help guide your bands towards their first recordings or live performance.
Music IT
Whether it's Ableton Push, Logic or Garageband, our tutors can develop an exciting KS3 project to bring out the best in your young Dj's and rappers. Alternatively, get ahead with that GCSE coursework.
Talk to Us
We'd love to discuss your school's music provision further and tailor the KS3 programme to your musical needs. Contact Gordon Maguire, Head of Southwark Music, for more information.